Bienvenue à Paris!
The safety and well-being of all participants is our maximum priority. FPS 2021 organizing committee commit to providing a safe, productive and well-attended conference atmosphere. In addition to physically attending its FPS 2021 "In-Person" Sessions, the conference will dedicate special sessions for online presentations. Delegates who are unable to attend the conference due to the COVID-19 pandemic can choose "remote participation-only" and participate virtually with affordable registration fees.
---
FPS Conference venue (Espace Hamelin) is subject to "Activity Pass" !
Since the 9th of August 2021, a health pass is mandatory to access certain events and places to minimize the risk of contamination by the Covid-19 virus. This measure applies from the age of 12 years throughout France.
he "activity pass" consists of the digital (via the TousAntiCovid application) or paper presentation of one of the following three health proofs to participate in certain activities in France (see below) :
Completion of a full vaccination schedule according to French rules (7 days after the 2nd injection of Pfizer, Moderna or Astra Zeneca, 28 days after the injection of Johnson and Johnson, 7 days after an injection in people who previously contracted Covid). Astra-Zeneca + Pfizer, Astra-Zeneca + Moderna, Pfizer + Moderna are accepted.
A negative PCR or antigenic test less than 24 hours prior to the event
A positive RT-PCR or antigenic test result demonstrating recovery from Covid-19, at least 11 days old and less than 6 months old.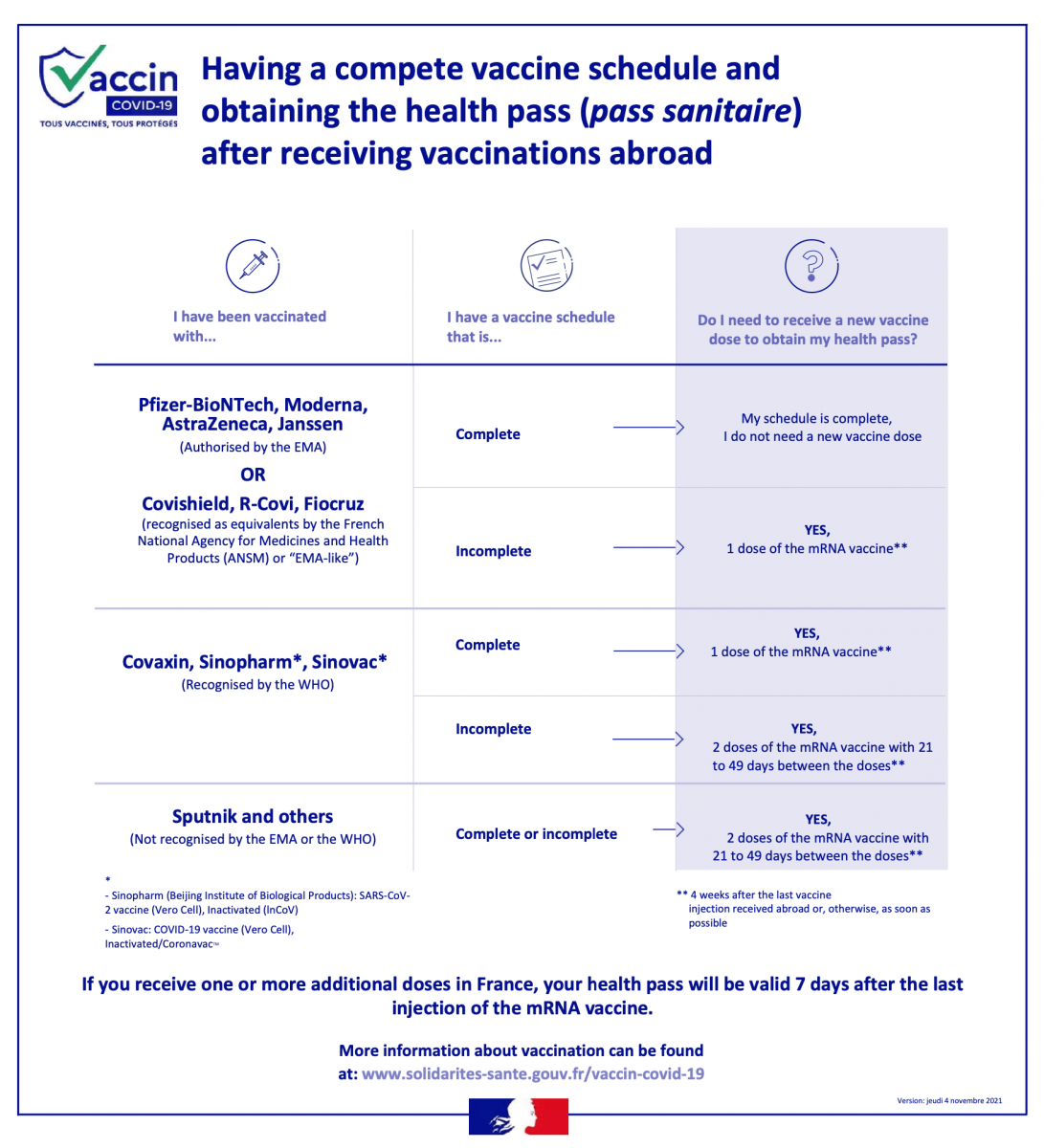 When is the "activity pass" required?
The "activity pass" is required for adults and children aged 12 and above.
the pass is mandatory for access to all events or leisure and cultural places receiving more than 50 people : theaters, cinemas, museums, concert halls, festivals, stadiums, amusement parks…
the pass is required in cafés, bars and restaurants, whether indoors or on the terrace, in some shopping malls, as well as in hospitals, retirement homes and medical and social establishments. It will also be mandatory on board airplanes, trains and long-distance buses.
The pass is mandatory for cruises and passenger boats with accommodation when they welcome at least 50 passengers. It is also mandatory in nightclubs
How can I get a vaccine equivalency health pass?
To get a vaccine equivalency health pass, the the non-European Union nationals (except students who can apply for a health pass here) need to present the following documents:
A passport
The original vaccination certificate in paper format
These mandatory documents must include, in a legible way, the last name, first name, date of birth as well as the date of vaccination, the used vaccine, if possible, the batch number, the number of doses injected and the country of vaccination.