About SystemX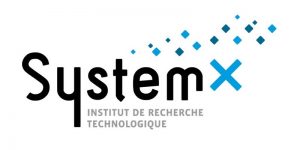 SystemX is a Research and Technology Organisation (RTO) specialised in the areas of analysis, modeling, simulation and decision support applied to complex systems. It is the unique RTO in France fully dedicated to digital systems engineering. SystemX coordinates collaborative research projects and gathers academics and industry players coming from multiple industrial sectors. The members of such collaborative projects work altogether to overcome key scientific and technological obstacles, within the following 4 application domains:
Mobility and Autonomous Transport,
Industry of the Future,
Defense and Security,
Environment and Sustainable Development.
Through "use case"-oriented projects, SystemX teammates tackle major societal and technological challenges, thereby contributing to the acceleration of the digital transformation of industries, services and territories.
Located on Paris-Saclay, Lyon and Singapore, SystemX has launched 53 research projects (out of which 29 are still ongoing) since its creation in 2012, involving more than 100 industrial partners and 50 laboratories.
SystemX, a key player in cybersecurity
The institute holds a strong background in cybersecurity with a specific focus on Cyber-Physical Systems such as Intelligent Transport Systems (ITS), Industrial Control Systems and IoTs (Internet of Things). In the last five years, SystemX developed a highly skilled cybersecurity workforce in anomaly detection and network monitoring especially in ITS/ICS networks, authentication and encryption, and the development of cyber training exercises to preparedness and cyber awareness. SystemX cybersecurity teams is involved in several national and european activities aiming at improving the security and resilience of cyber physical and critical infrastructures.